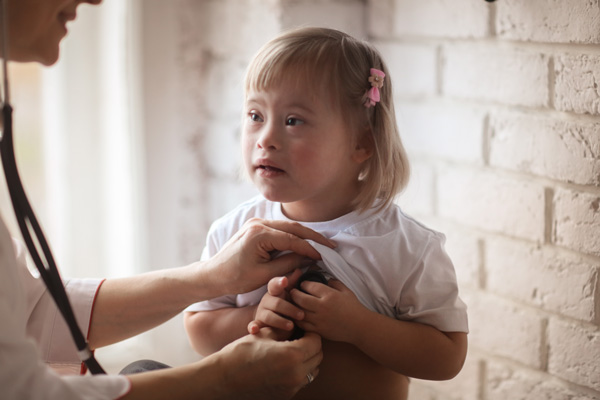 Children who are born with complex congenital heart disease (CHD) are at risk for problems with growth and development. The Cardiac Neurodevelopmental Clinic evaluates and treats babies, children and teens with complex congenital heart defects. We provide close follow-up during their first 5 years of life and offer intermittent follow-up and consultation for children age 5-18 years.
Our interdisciplinary team of specialists helps identify developmental concerns early, provides on-going monitoring, and suggests treatment and therapies.
What to Expect During Your Visit
Assessment process:  Your child will receive a formal developmental assessment by a team of specialists. After your visit you will receive a detailed report of your child's developmental, cognitive, and behavioral strengths and weaknesses along with recommendations and resources.
The length of your visit depends on how many specialist you see. Most visits last 2 to 3 hours.
Billing and Insurance: Health insurance covers most clinic visits.  Costs depend on your child's age and how many specialists you see. Talk with your health insurance company about what services they cover, what co-pays you will need to pay, and whether you need authorization before your clinic visit.
E-Care  is the confidential medical record system used for CHDD Specialty Clinics.  You can view upcoming appointments, lab results, and other visit information online.  Parents or guardians of children may sign up for eCare access to their children's online health records. You can contact your child's clinic for more information, or sign up in person when you check in for your child's appointment.
Interpreter Services: Specially trained medical interpreters are available for patients or family members who do not speak English. Be sure to request an interpreter, if needed, when you contact our clinic. Let us know which language you prefer to use.
Link to Cardiac Clinic brochure.
The Cardiac Neurodevelopment Clinic Team
CHDD: Getting Here
The CHDD is located directly behind the University of Washington Medical Center (UWMC) at the south end of the UW campus in Seattle, Washington.
Street Address:
1701 NE Columbia Rd
University of Washington
Seattle, WA 98195-7920
Link for full directions, parking, maps and transit information.
Link to Google Maps.


What To Expect During Your Visit
Biochemical Genetics Clinic
Cardiac Neurodevelopment Clinic
The Biochemical Genetics Clinic provides evaluation, consultation, and management services to clients of all ages with a variety of genetic metabolic disorders (inborn errors of metabolism). These disorders result from an inherited inability to produce a particular enzyme or cofactor necessary for normal metabolism, generally for the production or breakdown of proteins, fats, or carbohydrates.
Congenital Hypothyroidism Follow-Up Clinic
Down Syndrome Specialty Clinic
Fetal Alcohol Syndrome Diagnostic & Prevention Network Clinic
Infant Development Follow-up Clinic
Late and Moderate Preterm Babies (LAMBS) Follow-Up Clinic
Pediatric Audiology Clinic
Phenylketonuria (PKU) Clinic