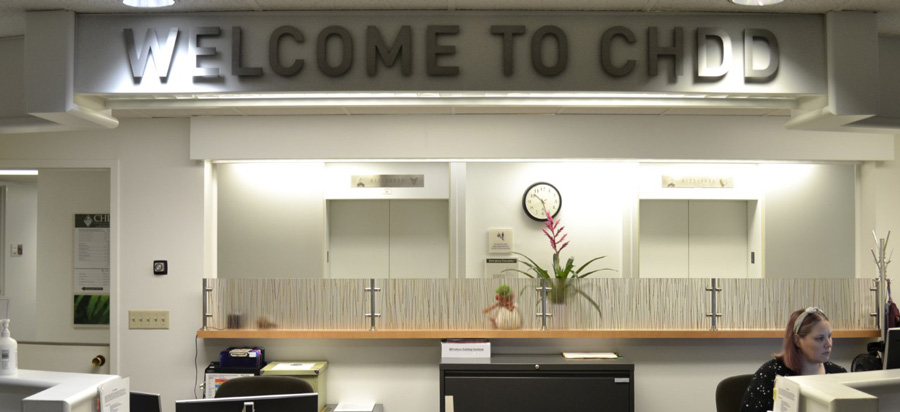 Mission: The Clinical Training Unit (CTU) Developmental Specialty Clinics are part of the University of Washington Medical Center (UWMC) and are located at the Center on Human Development and Disability (CHDD). While the UW Autism Center is also located at CHDD, it is not part of UWMC or one of the specialty clinics
CHDD: Getting Here
The CHDD is located directly behind the University of Washington Medical Center (UWMC) at the south end of the UW campus in Seattle, Washington.
Street Address:
1701 NE Columbia Rd
University of Washington
Seattle, WA 98195-7920
Link for full directions, parking, maps and transit information.
Link to Google Maps.


Meet Elizabeth Downs, Patient Care Coordinator
When you visit any of our clinics, the first person you'll meet is Jennifer Downs, our Patient Care Coordinator. Jennifer will check you in, make sure all of your paperwork is in order and answer your appointment related questions.
What To Expect During Your Visit
Biochemical Genetics Clinic
Cardiac Neurodevelopment Clinic
The Biochemical Genetics Clinic provides evaluation, consultation, and management services to clients of all ages with a variety of genetic metabolic disorders (inborn errors of metabolism). These disorders result from an inherited inability to produce a particular enzyme or cofactor necessary for normal metabolism, generally for the production or breakdown of proteins, fats, or carbohydrates.
Congenital Hypothyroidism Follow-Up Clinic
Down Syndrome Specialty Clinic
Fetal Alcohol Syndrome Diagnostic & Prevention Network Clinic
Infant Development Follow-up Clinic
Late and Moderate Preterm Babies (LAMBS) Follow-Up Clinic
Pediatric Audiology Clinic
Phenylketonuria (PKU) Clinic